So you can't sing for shit? Are your ear-piercing squelches disguised as songs restricted to the confines of your car or shower? Luckily for you, only God (and maybe your neighbors) can judge.
But what do you do when you're out and about and that one asshole (or Japanese client from out of town) suggests karaoke?
Fear not my flat-noted friend, for I've got your back. And backup vocals if you buy me a beer.
Here's your personal playbook to overcoming your vocal woes and becoming the next karaoke sing king.
What is a Karaoke Sing King?
Simply put, the Karaoke Sing King is that one person who absolutely crushes it at karaoke. We all know that guy.
Whether it be the silver-haired, cigarette-smoking, whisking-sipping southerner who suddenly steps on stage and manages to murder faces or this year's Miss Mimosa contender, anyone can be a karaoke sing king.
Don't know where to start? Feel free to steal these tips right out of my personal karaoke sing king playbook.
Karaoke Sing King Preparation
Practice really does make perfect here my friend! Nobody wants to get behind a mic and close the place down (to crickets) like this guy…
Sing in the shower, the car, in elevators, wherever. Watch YouTube videos to get mic technique down and even record yourself to make sure you're somewhat in tune.
Still can't sing for shit? No worries, karaoke mics have a lot of free play, will auto tune your yelps and are extremely forgiving.
Put on a performance
Most people don't like good music. They like performances. Just about any pop star you see "live" doesn't actually sing. Yet people still pay good money to see androgynous, non-musical hacks gyrate their hips in front of screaming children.
There's a guy at my former karaoke joint who would literally practice dance moves in the parking lot. When his turn came up he didn't even grab the mic. He merely proceeded to nail the entire Billie Jean dance sequence. And bounce. Not a single seat sat unsticky.
For added bravado, be sure to sharpen your air guitar skills. I've even practiced mouthing multiple instrument parts that I throw into the act.
Speaking of award-winning performance, you don't necessarily need to actually sing. Despite all the practice in the world, you might just be a shitty singer. Again, worry not!
Parody
Can't sing? Bust out some solid dance moves. I have a buddy that couldn't get away with silently singing in church come Sunday.
Yet Saturday nights are filled with boozed-up bar-goers begging him to stay on stage. Why? Because he has his go-to songs that he butchers to the point of hilarity.
The funniest part is watching the crowd's reaction. Initially they respond like one would watching someone get ran over. This evolves into pity applause. Eventually the crowd catches on and this guy proceeds to tear the place down.
Interact with other acts
At this point you're probably feeling pretty confident. Be it the booze or your new ascent to small-town, dive-bar stardom, you've built a karaoke bar fanbase. For tonight at least.
No longer do you care about your lack of singing ability or stage presence. You're drunk and looking to carry on the good vibes. Interact with other acts.
Regardless the scenario, Kayne West the stage solo or grab the dude bros to sing the most un-masculine song you can find.
Bachelorette party singing Shania Twain? Accompany them with some vocal bass lines to be the man who makes these sloppy sorority sisters feel like a woman.
Seriously slaying it? Go for an intentional Whitney Houston fail to publicly broadcast your IDGAF attitude. Have your eye on a hottie? Bonus points if you offer up a duet.
Pro Tip: Spice Girls' "Wannabe" or any other you go girl anthems will almost always get entire groups of girls to join you on stage. Pick anything from this list and try not to have TOO much fun.
What if I don't suck at signing?
Now let's say you actually can sing a bit.
I sang in choir as a kid and remember being pretty damn good. That is, until one day puberty took its vocal toll and I could no longer hit a Whitney Houston high note.
Bit by bit I was placed further back on the risers as my range (and testis) continued dropping. Eventually, a music teacher just handed me a bass guitar and told to learn how to play it.
Needless to say, I can still manage a pretty mean mic on occasion.
The microphone hustler
This is my go-to karaoke sign king strategy.
Start off with a super sappy song you barely know. And do it stone cold sober. You might even get a some slight pity applause from single moms who think you're autistic, stray cougars looking to get stuffed by some young stud, or drunken dude bros ironically cheering for an auditory holocaust. 
By now, you should have set the crowd's expectations for your next performance very, very low.
As the night goes along, you begin to warm up, and the alcohol starts to set in, stick to song selections you're more familiar with. Combined with the booze of the bar crowd, people will start thinking you're pretty damn good.
Keep lulling them along and when the time is just right, nail it with your closer. 
Leave the audience absolutely fucking stunned.
Drop the mic (not literally, since shit is expensive) and leave. Don't say a word in response to any congratulatory praise. Simply state "I used to like that song" or "I only sing in the shower".
Of course, this approach requires that you actually…
Close with one good song
Every baseball team has a closer or clutch hitter on their roster. You too should have an absolute ringer ready to roll at all times. 
This is the song you pour your heart, soul and every fiber of your being into. Babies cry, panties wet and men shiver when you bust out this tune.
Can't hold a tune? Don't worry. You're not going to be America's Next Top Idol (or whatever they name those shows these days). You want people to think you're way better than you actually are. But you'll only showcase your one or two good songs.
When I'm in Mexico, I can count on being the only white guy in the place who speaks perfect Spanish. I make it a point that nobody knows this until I knock out some Vicente Fernandez or "Corazón Espinado" completely out of the park.
Welcome to Karaoke Sing King Stardom
There you go maverick. A foolproof plan to achieve karaoke bar stardom. Be careful, you might just break a heart or two. Or end up on American Idol.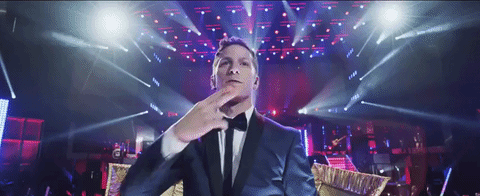 Next time you're looking to turn up with your karaoke sing king crew, don't overlook such a magical place. Sure, any old schlub can buy $800 bottle service at some dumb club with overpriced drinks, stuck up slags and a Dipshit DJ.
But, it takes a real man to face the music and completely rock the socks off an entire karaoke crowd.
This my friend, is when you become the karaoke sing king.